Project Management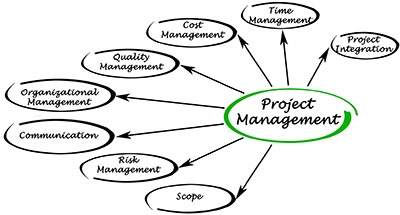 Project management is the planning, organizing, and managing the effort to accomplish a successful project. It's a one-time activity that produces a specific output and or outcome.
Projects are separate from business-as-usual activities, requiring the team to come together to focus on specific project objectives. As a result, effective teamwork is central to successful projects.
Project management is concerned with managing discrete packages of work to achieve specific objectives. The way they work is managed depends upon a wide variety of factors.
Project management includes developing a project plan, which involves defining and confirming the project goals and objectives, how they will be achieved, identifying tasks and quantifying the resources needed, and determining budgets and timelines for completion.
It also includes managing the implementation of the project plan, along with operating regular 'controls' to ensure that there is accurate and objective information on 'performance' relative to the plan, and the mechanisms to implement recovery actions where necessary.
Projects often follow major phases or stages, for example, definition, feasibility, planning, governance ( development, testing, implementation ), evaluation, and realization.
Projects that require formal management are those that produce something new or altered, tangible or intangible, have a finite time span a definite start and end are likely to be complex in terms of work or groups involved require the management of change, require the management of risks.
Your investment with us ineffective project management will have a number of benefits, such as: providing a greater likelihood of achieving the desired result, ensuring efficient and best value use of resources, satisfying the differing needs of the project's stakeholders.
What is Project Management –
Budgeting
Planning
Communication
Teamwork
System Analysis and Design
Problem Solving
Control
Milestones
Goals
Risks
Deadlines
Role of Project Manager –
A project manager is a person who has the overall responsibility for the successful initiation, planning, design, execution, monitoring, controlling, and closure of a project.
The project manager must have a combination of skills including an ability to ask penetrating questions, detect unstated assumptions, and resolve conflicts, as well as more general management skills.
Key among a project manager's duties is the recognition that risk directly impacts the likelihood of success and that this risk must be both formally and informally measured throughout the lifetime of a project.
Risks arise from uncertainty, and the successful project manager is the one who focuses on this as their primary concern. Most of the issues that impact a project result in one way or another from risk.
A good project manager can lessen risk significantly, often by adhering to a policy of open communication, ensuring every significant participant has an opportunity to express opinions and concerns.
A project manager is a person who is responsible for making decisions, both large and small. The project manager should make sure they control risk and minimize uncertainty. Every decision the project manager makes must directly benefit their project.
Project managers use project management software, to organize their tasks and the workforce. These software packages allow project managers to produce reports and charts in a few minutes, compared with the several hours it can take if they do it by hand. Even phase-wise monitoring can be done with these packages.
Role and responsibilities of Project manager –
Planning and Defining Scope
Activity Planning and Sequencing
Resource Planning
Developing Schedules
Time Estimating
Cost Estimating
Developing a Budget
Documentation
Creating Charts and Schedules
Risk Analysis
Managing Risks and Issues
Monitoring and Reporting Progress
Team Leadership
Strategic Influencing
Business Partnering
Working with Vendors
Scalability, Interoperability and Portability Analysis
Controlling Quality
Benefits Realisation
Why is project management important –
9.9% of every dollar is wasted due to poor project performance.
40% of the budget is lost when a project fails to reach its goals.
28% of the project fails due to changes in organizations' priorities.
48% of the completed projects experience high scope creep.
60% of organizations outsource their projects to third parties.