About
Information Technology Wizard having done M.B.A. with Information Technology and Systems, Bachelor of Science ( Physics – Hons. ) from Mumbai University, and having Core IT experience in Project Management for more than 40 years. More about me is —
Completed Sales Force Training in September '22.
Completed 10 Weeks of Digital Marketing Internship on January 22.
Completed a course in Medical Astrology in September 2021
Successfully completed Mobile App development course in July 2021
Completed a course on Podcast in May-2021
I am certified Cyber Warrior ( course on Hacking ) in January 2021
Completed Internship program from Digital Deepak October 2020
Completed 12 Courses from Digital Marketer in August 2020
Completed Freelancing Course about Digital Marketing in June 2020
Completed Digital Mastery Course in May 2020
Completed Linkedin Mastery Course in June 2020
Completed MBA in Information Technology and Systems in May 2014
Completed Diploma in Intellectual Property Rights Law from Asian School of Cyberlaw in Jan 2012
Completed Ethical Hacking and Countermeasures (CEHv7) from EC Council – the USA in March'11
Completed e-Commerce Certification from Asian School of Cyberlaw – 2010
Completed Post Graduation in Cyber Law from Asian School of Cyberlaw – 2009
Completed Diploma in Cyber Law from Government Law College, Mumbai  – 2008
Completed BS7799 course conducted by DNV Mumbai in September 2004.
Completed course on HTML, JAVA, and related topics for three months from SQL Star in March 2000
1996 October: A Completed course in oracle, SQL, and DBA from Sanvik computers. Course duration six months
1986 December: "Systems Analysis and Cobol Programming " on UNIX O.S. from ECIL at Hyderabad.  4 weeks full-time Resident Course.
1981 January-: "Systems  Analysis and Basic Programming" from HCL, Delhi.  Duration   4 weeks full-time Resident Course.
1980 July: Diploma in "Cobol programming" from Datamatics.  
I have operated all generations of Computers like Mainframes ( IBM 1401, PDP Series, Wang, ICL Series)  Micro Computers, Mini Computers, Personal Computers, Laptops, Palmtops.
I have used resources like  80 column Punch Card Reader, Exchangeable Disks, Line Printers, Tape Drives, Floppy Drives, 16 character rolling display and Data preparation Machines Punch card-based as well as floppy-based and handheld devices ( Simputer ) with slots to read Smart Card and Credit/Debit Cards with biometric verification and with voice for operating instructions having battery backup of 8 hours.
I have worked on Operating systems like RSX 11M+, Unix, different flavors of Linux, DOS, and Windows.
I have used Databases like Paradox, MS Access, MS SQL, Oracle  ( most versions ), and My SQL
I have developed projects in languages like COBOL, BASIC, C, C++, Dbase, Fox Pro, Oracle D2K Reports, Java, and Php.
I have headed projects like Retail, Construction, Banking and Finance, Human Resource Information Management System, various Governments Departments, Financial Institutions, Financial Inclusion, Forex, C.R.M., Municipal Corporation,  Indian Navy, statewide e-Governance like NREGS, Food, Labour Department and UIDAI.
Industry-wise I have worked with are Retail, Banking,  Education, Textile Mills, Advertising, Manufacturing, Shipping, Construction, Finance, Public Distribution systems, Logistics, and many Government Departments. Handled a team of 100+ for various e-governance Projects and even outsourced some activities for some projects having large teams in districts of Maharashtra.
I have been Blogging on health & Wellness related topics on my website for the last three years. I have also developed websites for professionals from various fields as well as for manufacturing companies. Also, have learned Digital Marketing through Webinars and online from various sources.
Today's cloud computing was originally termed Software as a Service (SaaS). I have Implemented SaaS-based Human Resource Information Management Systems for many private as well as government organizations from the year 2006.
Logistic Management system, as well as the Public Sector Undertakings property returns of the employees, was developed/implemented and maintained on the Saas model from 2008.
I was the first one to adopt and implement newer technologies since the year 2005. The First Aadhar number for UID was given by our team in Nandurbar, Maharashtra. Actually Aadhar process was implemented by our team for the NREGS project in Patna city, Bihar which was being implemented for the state of Bihar even before UID was constituted.
Click for Detail projects during a career
My proud Moment –> when I was presented Momento by Shri Ratan Tata for 'Project 1090 CFC' launched by  Mumbai Police.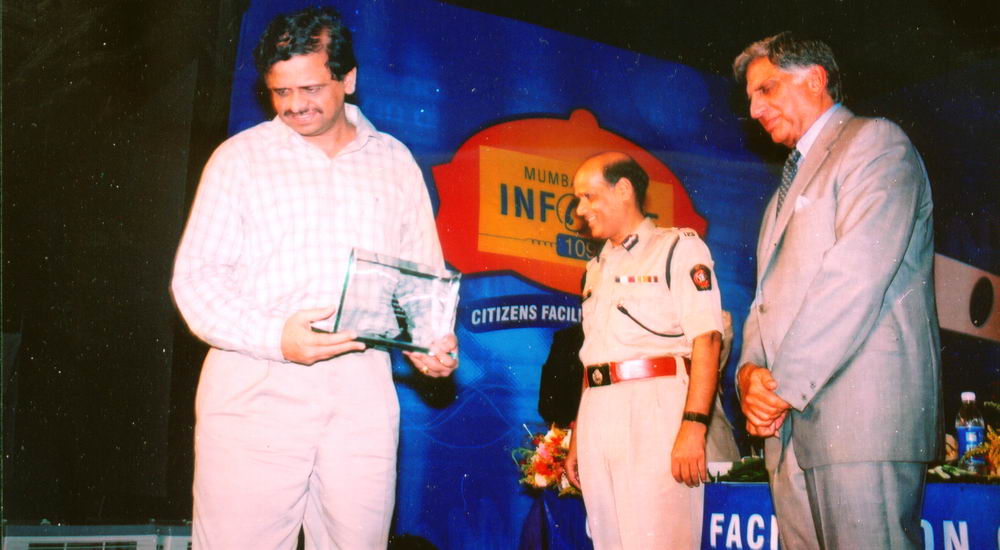 Launching of Corporate Debt Restructuring Cell ( CDR Cell ) Website in presence of Private and Public Sector Banks CEO.